Experience calm ocean, warm weather, great fishing and patient fishing guides!
---
Let our Vancouver Island fishing guides give you an adventure to never forget!  Based in Campbell River on the east central side of Vancouver Island, we offer Vancouver Island salmon fishing trips in calm seas that avoid sea sickness so that anyone can enjoy some great Vancouver Island Salmon Fishing in comfort! For your comfort all of our fishing is from 23′-28′ covered, Gradywhite or equivalent boats. They are Transport Canada Certified and offer on-board toilets, heaters and the best equipment, tackle and electronics on the market. Your safety and comfort are something we take very seriously.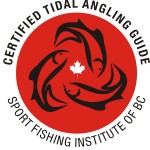 We pride ourselves in being members of the Sport Fishing Institute's Certified Tidal Angling Guide program to ensure you that we are what you're looking for. We know that you have a choice of which outfit you go with, and we'd like to make sure when you come with us that you are coming back for years to come. Our guides are passionate about being a part of science programs to ensure sustainable fishing and future wild Salmon runs.
Campbell River has long been known as the "Salmon Capital of the World". Situated close to the Comox Valley, all 5 species of Pacific Salmon pass through this area between May and October on their way to their natal rivers to spawn. The opportunity to catch all 5 species of Salmon is an opportunity, which many other fishing areas can't offer. We target all Vancouver Island Salmon when they are available, species such as:
Chinook Salmon (King Salmon)
Coho Salmon (Silver Salmon)
Sockeye Salmon (Red Salmon)
Pink Salmon (Humpies)
Chums Salmon (Dog Salmon)
All of our guides are versed in all local methods of fishing on the Saltwater, and we will fish any style that suits you!  We will recommend the best opportunities and tactics for your day to catch Salmon, and accommodate down rigger trolling, light tackle, jigging, fly fishing and more. Your Vancouver Island Salmon Fishing Charter will be an unforgettable experience!
The serenity and beauty of Vancouver Island Coastal waters must be seen to be appreciated. Our wilderness scenery is, bar none, some of the best in the world for your nature based vacation. Breathtaking coastal mountain views, abundant wildlife and crystal clear waters are everyday sights on Vancouver Island.  This is the place to enjoy authentic local community culture in nature on your Canadian vacation.
Campbell River Fishing Guides!
Comox Valley Fishing Guides!